August 2014 is a lucky and busy month.
On 4 August 2014, the 10th Cinemalaya Philippine Independent Film Festival exhibited under its Pinoy Pride Philippine Documentaries the film Ang Pagbabalik sa Tawi-Tawi  (Return to Tawi-Tawi), Monday, 12:45 pm at the Cultural Center of the Philippines (CCP)  Little Theater.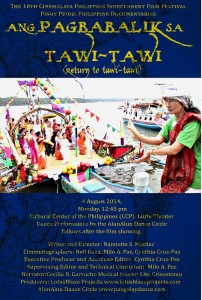 The guests of honor who graced the affair were Dr Bienvenido Lumbera and Dr Ramon Santos, National Artists; Hon. Ruby M. Sahali, Representative of the Lone District of Tawi-Tawi province; Dr. Nina Lim-Yuson, President and CEO of Museo Pambata; Carmen D. Padilla, President of International Organization of Folk Art (IOV), Mr Bayani Fernando, President of BF Group of Companies and former MMDA Chair; Ma. Lourdes C. Fernando, multi-awarded former Mayor of Marikina City.  Basilio Esteban Villaruz, art critic and UP Prof Emeritus in Dance at the College of Music, was not able to make it but sent his best wishes and congratulations.
Many among the audience were natives of Tawi-Tawi and Sulu provinces. Some flew in from the Sulu Archipelago just to attend the meaningful film showing, like Cong. Ruby Sahali, Dr. Filemon Romero, and Prof. Johnny Lee with his two daughters. Romero and Lee were founding members of the Tambuli Cultural Troupe in 1974. The two performed in the Cultural Center of the Philippines in 1974. Therefore, after 40 years, this reunion at the CCP for the film "Ang Pagbabalik sa Tawi-Tawi" was really a coming into full circle, a completion, a milestone.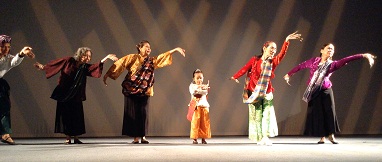 The 71-minute film culminated in a performance by the AlunAlun Dance Circle. Mannex Siapno performed the tawti while the closing credits rolled on the big screen. Child dancer Hannah Wadi danced beautifully, hands adorned with her cute janggay (metal claws). Accompanying Hannah were Mariel Francisco and Pacita Gavino who both performed the bula'bula or dance with bamboo clappers. Nannette Matilac did a solo pangalay dance. The finale of the performance was Ligaya Amilbangsa who showed her beautiful lines in the linggisan or bird dance, which is one of the original chore0graphy of Ligaya Amilbangsa based on field research that is essayed in the documentary film. The film showing is just the beginning of a series of film exhibitions of the documentary film all over the country and abroad.
On 2 August 2014, the AlunAlun Dance Circle performed in two separate venues at the Museo Pambata and at the SM the Block Atrium for the 2014 Eid'l Fitr Festival.
The Eid'l Fitr Exhibit at the Museo Pambata opened with a performance and interaction with children. It was a fun afternoon with children. Another session is set on 9 August 2014.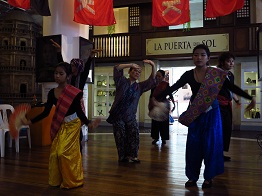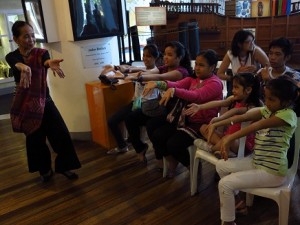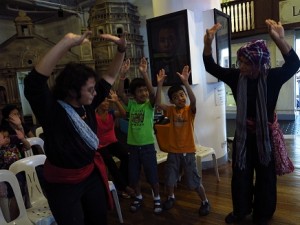 Levi Azarcon and Mannex Siapno demonstrate pangalay postures and gestures while boys enthusiastically imitate them.