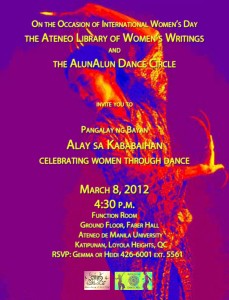 Program
Part I.  Preservation
Preservation is continuity of tradition. Tradition is essential to the soul of a nation.
It is the past living in the present, and reproducing itself for the future.
What is Pangalay?
(dance demonstration)
Pangalay means "temple of dance" in Sanskrit. It is basically pure dancing–without imposed ideas–performed to kulintangan music.
In the Sulu Archipelago, pangalay specifically refers to a traditional dance form with flowing movements and rhythmic steps.
It is also known as igal among the Badjaw, and paunjalay among the Yakan of Basilan province. Igal  is also used as a generic term meaning dance (n.) or a piece of dancing, regardless of function or form.The nomenclature varies, but the similitude of movement vocabulary is the basis of dance identification.
Pangalay has the closest affinity to the Asian modes of classical dancing:  the Cambodian, Burmese, Thai, Javanese, and Balinese. The basic pangalay movement vocabulary is demonstrated, with a selection of traditional pangalay variants.
Dancers: ADC Ensemble
Bula'bula'
Pangalay danced to the rhythmic clicking of bamboo, wood, or shell clappers
Dancers:  Milabel Cristobal, CB Garucho, Temay Padero, Mariel Francisco,
Punch Gavino, Joy Wadi
Igal ha Agung
Pangalay performed atop an agung
Dancer:  Louanne Calipayan
Tariray
An energetic Badjaw pangalay variant enlivened by the staccato accompaniment of clappers.
Dancers: Ligaya Amilbangsa, Nannette Matilac, Temay Padero
Igal Kabkab (Fan dance)
Rudimentary dance movements of pangalay  playfully accentuated by the use of a fan.  The complex version was choreographed by Ligaya Amilbangsa in 1993 and presented at the International Dance Festival in Seoul.
Dancers:  Gemelee Amar, Louanne Calipayan,  Roni Matilac
Igal Tauti (Dance of the Fisherman)
A vigorous pangalay variant performed by male dancers mimicking a fisherman's labors in catching tauti (catfish).
Dancers:  Mannex Siapno, Jimo Angeles, Rama Marcaida
Linggisan
Numerous pangalay-style postures and gestures interpret a bird in flight. Ligaya Amilbangsa's original Linggisan choreography distilled movements from numerous dance performances she observed in the Sulu Archipelago. Codified over two decades of research, these culminated in a cohesive pangalay movement vocabulary specific to Linggisan alone–a complete dance in itself.
Dancers:  Ligaya Amilbangsa,  Louanne Calipayan, Nannette Matilac
Part 2:  Conservation
Conservation is acceptance of the transformation of tradition, the introduction of change while remaining linked to the past.
ADC's innovations keep pangalay relevant and appealing to contemporary audiences.  These include the use of masks, rhythmic sounds, improvised costumes, puppets, different types of musical accompaniment, and props, without losing the intrinsic character of pangalay. A series of choreographed numbers accompanied by contemporary musical compositions depicting the
various layers and facets of being a woman demonstrates the versatility of the pangalay tradition.
Hindi Basta-basta (A Classy Woman)
The Tagalog novelty song about courtship became popular in the late 1950s.
Rendition by Sylvia la Torre.
Dancers: Mariel Francisco, Rama Marcaida, Temay Padero, Mannex Siapno
Babae Ka (You're a Woman)
The femininity and strength of women is conveyed in this simple fan dance. Traditionally performed solo, it is transformed into a group performance to heighten visual appeal.  Award-winning composition, music and lyrics by Ananias Montano.  Rendition by Susan Fernandez.
Dancers:  Milabel Cristobal,  Mariel Francisco, Pacita Gavino, Nannette Matilac, Temay Padero, Joy Wadi
Sa Ugoy ng Duyan (Rock-a-bye)
A lullabye portraying a child's nostalgic reminiscence of his mother.  Composed by Lucio San Pedro, with lyrics by Levi Celerio. Rendition by Regine Velasquez.
Dancer:  Nannette Matilac
Babae (Woman)
This folk-rock composition is typical of the Philippine protest music in the 1970s–an era of socio-political ferment when the theme of women's liberation became an important issue among the progressive sectors of society. Using bamboo clappers, the dancers mimick the movements of the kamun (sea mantis) and the lusay (seaweeds).  Music and lyrics by Ramon T. Ayco. Rendition by Inang Laya.
Dancers: Ligaya Amilbangsa and CB Garrucho
Bonggahan (Revelry)
A composite of intricate pangalay postures and gestures seen in the traditional tauti, pagkamun, and linggisan.
Choreographic innovations create theatrical interest and a lively mood complemented by an upbeat song by Sampaguita.
Music and lyrics by Gary Perez.
Dancers:  ADC Ensemble
Part 3: Ceremony
The first batch of memorabilia from Ligaya Fernando-Amilbangsa will be handed over to ALIWW.
Part 4: Open Forum and Dance Interaction