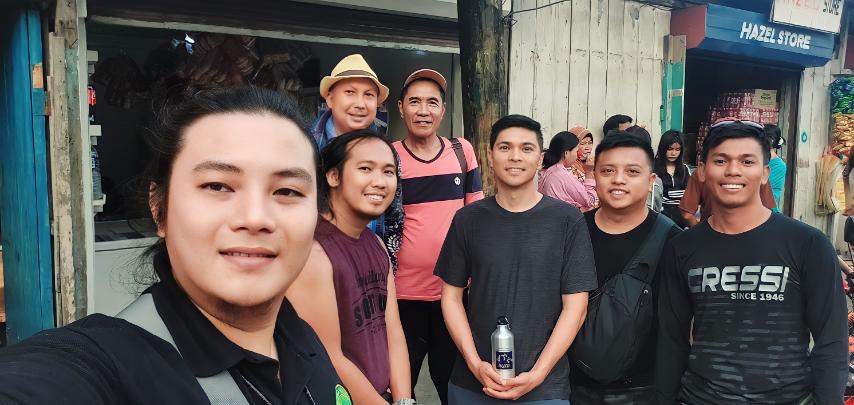 As the new moon approached in March 2023, the AlunAlun Dance Circle (ADC) together with Malaya Filipino-American Dance Arts based in Los Angeles, California went on a research and cultural exchange pilgrimage to Tawi-Tawi in the southwestern edge of the Philippines.

Aside from the distinction of being the earliest home of Islam in the archipelago, Tawi-Tawi is also ground zero of the pre-Islamic Igal/pangalay dance style which has the richest movement vocabulary among Philippine indigenous dances.

ADC's Jimo Angeles, Levi Azarcon and Bongao native Arafa Biste together with Malaya's Peter de Guzman and Marlo Campos conducted interviews and documented different variations of Pangalay, Kuntaw/Silat, Kulintangan and Gabbang music pieces among island communities and tribes. The group also had the privilege to interview and study under Hadji Elingan Jama, the last gabbang master maker of Bongao, a sweet old man in his 80s who is the embodiment of gabbang and byula music.

Mr. Omarjan Ibrahim Jahuran of Tabawan together with Sibimar Abubakar, guided the group to local artisans and makers of traditional attires, weaving and other implements and shared his knowledge on Filipino traditional martial arts and dying heritage traditions.

The group capped off their trip with a workshop / demonstration of lost or endangered pangalay/igal vocabulary movements and proper traditional techniques with the Mindanao State Univeristy-based Tambuli Cultural Dance Troupe, that was also founded by Prof. Ligaya Amilbangsa in 1974.
Currently under the directorship of Ms. Paramisuli Amin, Mr. Aidin Esmael (Head Choregrapher) and Mr. Mohammad Jakaria (Asst. Choreographer), Atchuch Sauragal (Lead musician), the Tambuli gave the ADC and Malaya a warm reception of pangalay dances from Tabawan, Simunul and Sitangkay which was reciprocated with gifts of ADC shirts, pangalay manuals and imported treats for the young members.

In an act of thanksgiving and prayer for a safe return, the group conquered the Philippines' southernmost peak of Bud Bongao (or Mount Bongao). The mountain is of traditional and spiritual importance to the indigenous Sama people and hiking its trail is imperative to locals and visitors.

On the last day of their cultural immersion, Jimo, Levi, Peter and Marlo was invited by the Biste family of Pasiagan to witness a traditional ceremonial feast of pagdua'a – a thanksgiving ritual to the ancestors solemnized by Imam Hadji Ladja Biste. Here, the group was served with traditional Sama food and delicacies such as tiyula itum (black tinola), spiced fish dishes, chicken curry, sambal, panyam, lokot-lokot, pali'kambing, buchi manis, local fruits and some native tea prepared by Jumilyn Biste.

Like kindred spirits, the delegation successfully reinforced and reestablished relationships and connections with the cultural bearers as well as with the ordinary local citizens of Tawi-Tawi.