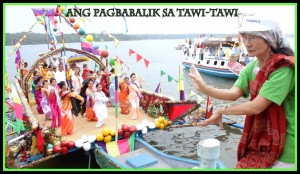 "Ang Pagbabalik sa Tawitawi" documents Ligaya Amilbangsa's return to the Sulu Archipelago after more than 30 years, to re-connect and to share with the people whose arts and culture she helped to preserve. The film centers on how Amilbangsa researched and documented pangalay, also known as igal and paunjalay in the Sulu Archipelgao.
The art of the Sulu Archipelago (Samal, Bajau, Tausug, Jama Mapun), particularly the performing arts and the visual arts, are the Philippine's living links to the culture of the rest of Asia. At present, collective memory of the music, dances and visual arts is being lost at an alarming rate due to western acculturation, globalization, disinterest in tradition, armed conflict, and many other factors that the documentary will tackle.
Fortunately, such vanishing arts and culture of the Sulu Archipelago have been documented by Ligaya Fernando-Amilbangsa, a Christian who fell in love with a Muslim closely related to the Sultanate of Sulu. In 1964, against her mother's wishes, Ligaya married Datu Punjungan Amilbangsa, the younger brother of Sultan Mohammad Amirul Ombra Amilbangsa—the last reigning sultan of Sulu.
As fate would have it, the marriage became the fulfillment of Ligaya Amilbangsa's life mission. By living in Sulu Archipelago for over three decades, she was able to record the performing arts, visual arts, and other traditions that are now endangered intangible cultural heritage.
"Pagbabalik sa Tawi-Tawi"  was filmed in a period of three years from 2011 to 2013. The film is written and directed by Nannette Matilac, with support from LotusBlaze Projects, NCCA, Ateneo de Manila University, Museo Pambata, the Provincial Government of Tawi-Tawi, Mahardika Institute of Technology, with the efforts and financial assistance of many cultural workers who believe in the film project.
Exhibitions in February and March 2014:
24 February 2014 2:00 p.m. at UP Institute of  Islamic Studies, sponsored by UP IIS and ADC
26 February 2014 2:30 p.m. at PH 207, Palma Hall UP Diliman, sponsored by UP Anthropology Department, CSSP Folklore Studies and ADC
8 March 2014  10:30 a.m.  9th Fl, Technology Building, Far Eastern University, Manila sponsored by Angel C. Palanca Peace Project on the occasion of International Women's Day
The film showings will be followed by dance demonstrations and lecture-discussions.