The Philippine Arts Festival (PAF) opened with pangalay choreographies performed by the AlunAlun Dance Circle to celebrate Philippine Arts Month on 6 February 2013 at the Marikina Riverpark. The  PAF is sponsored by the National Commission for Culture and the Arts (NCCA). The festival is under the supervision of NCCA chairman Felipe de Leon Jr. and executive director Emelita Almosara. The PAF Opening Program  is in cooperation with the City of Marikina and in cooperation with Damlay, Inc. of the Pamantasan ng Lungsod ng Marikina.
The 2013 Philippine Arts Festival promoted icons of Philippine arts. The Opening Ceremony of the PAF began with a pangalay choreography to the choral rendition of "Bituing Marikit." The pangalay choreography was led by Nannette Matilac featuring the use of the janggay or metal claws.  The janggay is also called saling kuku, sulakengkeng or salukengkeng in the Sulu and Tawitawi provinces. Rama Marcaida with young dancers from various schools also danced in a circular formation much like a sunset ritual.
This was followed by a dance suite on three songs by Yoyoy Villame whose iconic songs can also be considered as significant to Philippine folk and pop culture. The pangalay dance movement vocabulary was utilized in interpreting Villame's "Granada", "Buchikik" and "Nasaan Ka Darling?". Despite the whacky rendition of these innovative songs, the pangalay choreography remained faithful to the tradition of pangalay dancing–slow, meditative and defiant of space-time,  relying on rhythm of the breath and not the musical beat.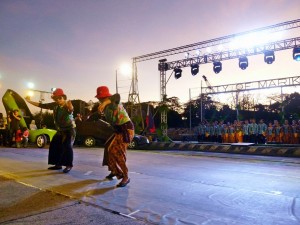 Pangalay, also known as igal among the Sama and paunjalay among the Yakan, is an important cultural icon and symbol of our cultural heritage.  Aside from pangalay, other icons of Philippine arts  presented in the PAF are the kundiman and the balagtasan.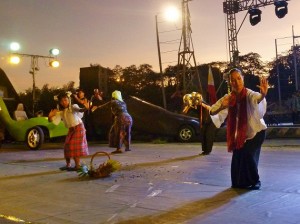 Photos by Levi Azarcon