You are cordially invited to the Moonrise Film Festival exhibitions of
Sayaw sa Alon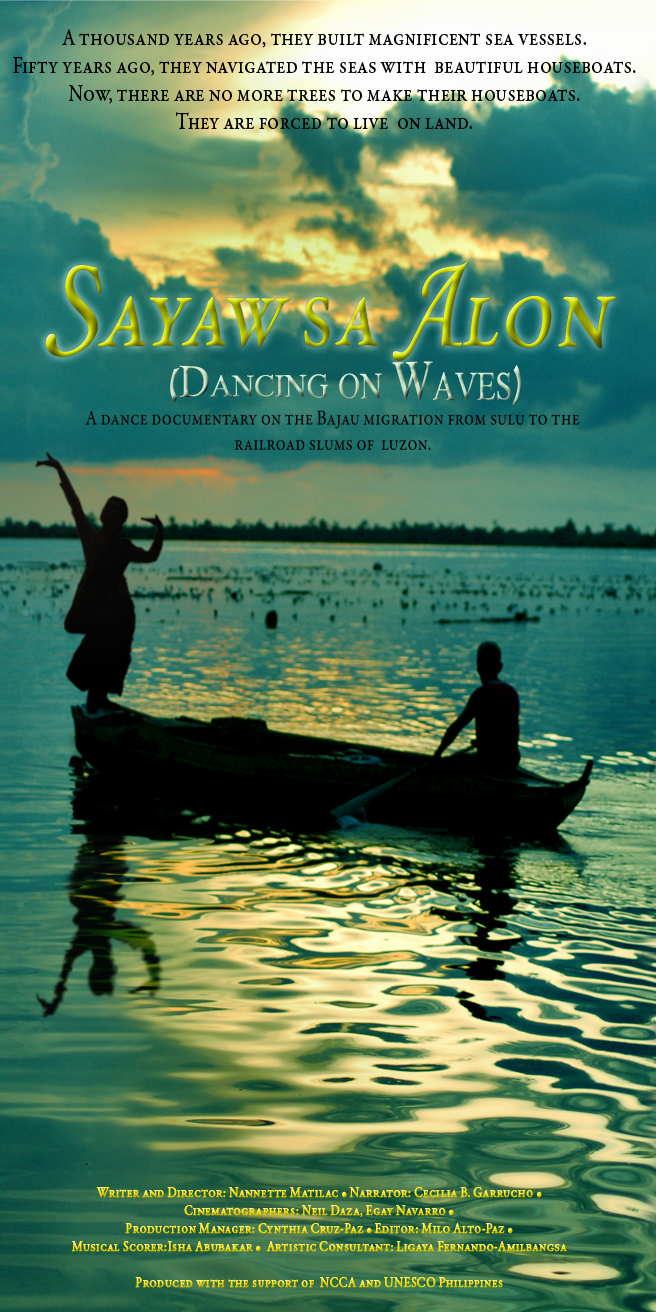 The Bajau possess the ancient wisdom of the sea. Can they preserve the invaluable heritage in the face of war, western acculturation, globalization and environmental degradation?
The documentary combines the traditional dances and music of the Sulu Archipelago to dramatize the rapid transformation of the Bajau from a seafaring people to a land-based nomadic group.
Shot in Tawitawi, Sitangkai, Zamboanga, Metro Manila and Laguna, the documentary follows the Bajau flight from Sulu Archipelago
to the railroad slums of Laguna.
Writer and Director: Nannette Matilac
Narrator: Cecilia B. Garrucho
Cinematographers: Neil Daza and Egay Navarro
Production Manager: Cynthia Cruz-Paz
Editor: Milo Alto-Paz
Musical Scoring: Isha Abubakar
Artistic Consultant: Ligaya Fernando-Amilbangsa
Produced with the support of the NCCA and UNESCO Philippines
Moonrise Film Festival, Robinsons Galleria Cinema

21 Aug 2008– 6:40 PM (Thurs)

22 Aug 2008– 9:05 PM (Fri)

23 Aug 2008– 11:00 AM (Sat)

24 Aug 2008– 1:40 PM (Sun)

25 Aug 2008– 4:25 PM (Mon)

26 Aug 2008– 6:40 PM (Tues)
Screenings at the Robinsons Place, Ermita will be announced.
For more information contact:
Moonrise Filmfest Secretariat
0915-323-5022, 0928-562-8858
557-9404, 557-9439