by Mariel N. Francisco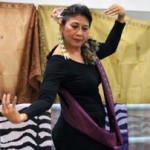 Stillness enveloped the plenum hall with 100 participants representing 18 countries.   After two days  of presentations and group discussions, we were in a quiet evening session titled "Listening to Karma".  It was the continuation of the previous evening's "Listening to the Earth".   The idea was for everyone to sit in a circle in meditative silence, and whoever was moved to stand up and speak on the theme was to  do so, then  take his seat again.  There was to be no discussion, simply a sharing of one's thoughts and feelings which we could all take into our sleep.
The place was Emerson College, a center for anthroposophical learning in East Sussex in the UK.  My friend Susana and I were attending the Worldwide Biography Conference, held every two years for teachers and practitioners of the growing field of Biography Work.  We were newly certified graduates of the course conducted  here in the Philippines by teachers from the UK,  eager to connect  and learn from  those who were professionally helping people see deeper meaning in their lives.
This year the theme was  "Living in Awareness of  Karma ".   The lead organizer was Fumiko, Japanese woman living in the UK who had been teaching Biography Work extensively in her home country.   A group of her students over the years made up the strong Japanese delegation.   On two walls of the plenary hall was an exhibit of stunningly beautiful photographs:  "Fukushima before March 11".  No one could escape remembering  the tragedy of this bustling coastal city devastated beyond description by  earthquake,  tsunami  and nuclear radiation.
On the first evening, one by one individuals stood up and voiced a  lament on the sad state of our planet.  "In the future, will there be flowers for me to see and smell?" wondered Ileana, an earnest young woman from Rumania.  "Every morning when I wake up, I just say a prayer of gratitude for life, for the gift of another day," said Christina, a chic Brazilian, and one of the organizers.  "What does the earth want to say to us, what is it really asking from us?"  asked Margli, a leading pioneer of Biography Work in the UK.  Her question stayed with me the whole night and until the next day.
Fragments of thoughts came to me, such as, that I have planted  5000 trees in my lifetime so far.  That the leader of a local cult told me many years ago that water would be the cause of violent clashes  in our country, despite our being an archipelago  between  the China Sea and Pacific Ocean.  And how we live from day to day with the  fear that with the next  earthquake it will be out turn to be hit.   But I seriously wondered if what I had to say would matter to anyone–or to the planet.  Words broke the silence and vanished again in the silence.    Some words felt like they were coming from the head, not from the heart.  My intended words sounded hollow even to myself.  So I kept quiet.
On the second evening, Ileana plaintively brought up her concern again.  "Will I even remember what a flower looks like?" she asked.   I felt listless.  Nothing really new or striking  was being said.  My heart was full of  what I couldn't find words for.  Then came a lull just long enough for me to gather all the courage I had, and I stood up and found myself speaking.  "'I don't know if some of you are a bit tired of words… as I am…" I heard my slow and tentative words resonating across the room.   I felt everyone's  curious attention shift to me.  I continued:  "I have been thinking about what  Margli asked last night, 'What does the earth want from us? what is it asking of us?' And it just occurred to me that the earth wants us to mirror its beauty to itself.  The earth wants us to be as beautiful as the flowers and the trees.  The earth wants us to sing and dance.  We have been singing together…now I would like to offer this dance from the indigenous people of Southern Philippines.  In ancient times it was probably danced in temples in India, where it originated before spreading throughout Asia.   It is therefore a sacred dance, a dance celebrating nature by mimicking the waves of the sea, the wind, the birds, the coconut trees, and so on…  If you will allow me to enter  the sacred space (indicating the circle around which our chairs were arranged,  in the center of which  a big vase of flowers stood), may I  step gently on the earth on behalf of us all…"  or something like that.  Nods and expectant  glances accompanied my nervous steps to the edge of the circle.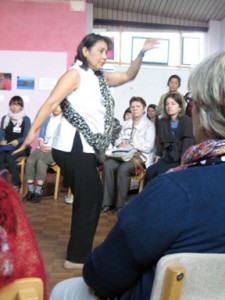 I had actually performed pangalay the week before to a smaller audience of mostly Brits.  My college classmate Norma, now married to a world-renowned British composer, requested me to dance at the party she organized to introduce herself to her husband's friends (it was a second marriage for both of them). But that was planned well ahead of time and I had come fully rehearsed and costumed.  This time I was proposing to dance–unbidden!– before 100 people, mostly strangers.  It seemed the height of audacity!  Yet I wanted to honor the spirit of pangalay that I felt was moving me.
My heart was thumping loudly as I left my shoes behind and went into my figure 8 at three levels, then three more to the opposite side of the body. I just hoped my hands were not trembling too visibly.  I went on with whatever movements I could remember that best expressed natural phenomena–such as grass growing, tail of the bird flicking, flowers opening,  and more that my state of high tension obliterated from my memory.   Not a tinkle of a sound could be heard as I moved around the circle with my inhale and my exhale.   At last I reached the opening  where I had come in, and with running figure 8's made my way back to  my seat.
I had to take in big gulps of air to keep my chest from exploding.  My knees were  shaking so much, I pressed  them together  with all my might.   Feeling  overwhelmed, I bowed my head,  unable to bear seeing any raised eyebrows or  impassive faces.   Many thoughts went through my mind.  I knew that pangalay was beautiful no matter how imperfectly I had done it, and no one could fail to be touched by it.  I remembered my teacher  Ligaya's reassuring words, that in pangalay we are not after perfection but knowing the vocabulary of the dance.   I felt I had somehow made a statement for the Philippines–our closeness to the land, and hopefully the grace and artistry of our people–that was in keeping with the  theme of the conference.   It was obvious that I was not really a dancer, so I trusted they realized  it was not a performance but a prayer  offering to the earth, in community with everyone in the room.
Soon the silence was broken by one, then two, people who stood up and thanked me for my dance.  Throughout the evening here and there other speakers  would mention that my dance had touched them,  so my heart began to settle and I was able to feel my happiness. "I'm so proud of you," my friend Susana whispered to me and I gripped her hand gratefully.
When the session ended, people came up to me and thanked me for my "beautiful dance".  A tall and stocky man whom I guessed was from the Netherlands, and with whom I had not exchanged so much as a smile, came to my seat and touched my shoulder.  "Thank you for your dance," he said with formality and sincerity.   Some said, "That took a lot of courage!  You were brave!"– which was truly what I had felt,  yet it didn't quite sound so flattering even if they meant it as a compliment.   No matter, I decided to take all responses positively.  "Egos don't dance," as my favorite quote from Gabrielle Roth goes.
Early in the morning the next day, as we walked to the breakfast rooms,  I saw Leah, one of the  American participants I had felt drawn to,  coming toward me. We held hands like old friends.  "Kathleen and I were in tears," she told me.  "It was so moving,  how you made every step with reverence.   We wished  we, too, had a dance for the earth like yours."  When Shlomit, the woman from Israel who had befriended us from day one, complimented me,  I tried to tell her more about pangalay and the Sama, Tausug, Badjaw, Yakan  and Jama Mapun who live by the sea.   "You embodied it," she said with smiling eyes.  Mizuho, a contributing editor of the Kyoto Journal, wanted her daughter who was into dance to learn pangalay, and would not let me go until I promised to send her some YouTube videos of Ligaya.   Carine, a young woman from Switzerland who was one of the organizers, showed me how she  tried to do the figure 8 movement, and asked if I could teach it to her and others.  Of course, I said, but there was no more time.  "Next conference we have  to include it among the presentations, " she said resolutely.
I was floored!  Truly I had not expected such…uhmm… acclaim.   Pangalay had passed yet another  test of timeless and universal appeal.  Despite the shattered nerves I had suffered,  I became  more and more pleased that I had obyed the loud insistent voice that had goaded me to present myself for that seemingly immodest task.   But it was not me, the foolhardy dancer, but the dance.  Pangalay is the perfect  language to communicate our love for the earth that binds us all.  It calls our attention to the natural  wonders all around us that we take for granted–the fluttering of birds' wings, the soft tropical breezes,  the swaying of seaweeds,  the ebb and flow of tides.  Its soft  gliding steps symbolize how we must tread gently upon the earth and leave only the faintest possible footprints–or none at all.  Its creative  flowing  energy caresses,  nourishes and heals my spirit.   I am so proud and happy to have pangalay as a companion on my continuing life journey, as a Filipino and as a citizen of the cosmos.