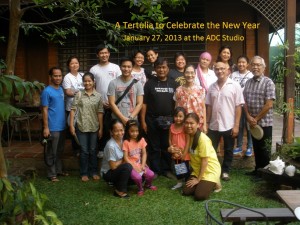 On the 27thof January, majority of the members of the ADC brought food to share in the sumptuous afternoon of food and Asian dances with kulintangan music.  Among the guests who came were Prof. Filemon Romero from Tawi-Tawi, Prof. Apo Chua from UP Diliman, Jeremy de la Cruz from UP Los Banos and Levi Azarcon of Pangalay Artists Circle.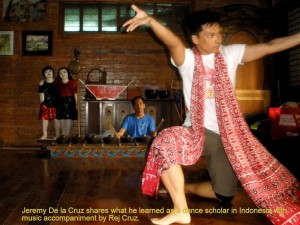 Jeremy de la Cruz joined the ADC members in dancing basic pangalay postures and gestures especially the figure 8. Then he shared a spontaneous choreography of Javanese and Balinese movements which he learned from his dance training in Indonesia.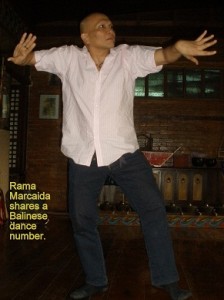 Rama Marcaida also performed a Balinese dance to enrich the afternoon of dance and music. The occasion became an instant tertulia.
Even without much ado and planning, there was abundant food for everyone:  vegetarian pancit, soup, sandwiches, puto, mango cake, menudo, pizza and many more.
Satisfied with the sumptuous meal, everyone danced again, not only to burn the calories but also to bring the celebration to a joyous end.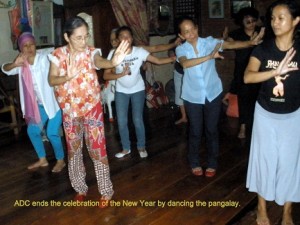 Then, as everyone left by early evening, we saw a glorious full moon in the sky to usher an auspicious year ahead.    Happy New Year!
Text and photos by Nannette Matilac