WATER SYMPHONY
Roosevelt College, Rodriguez in Rizal Province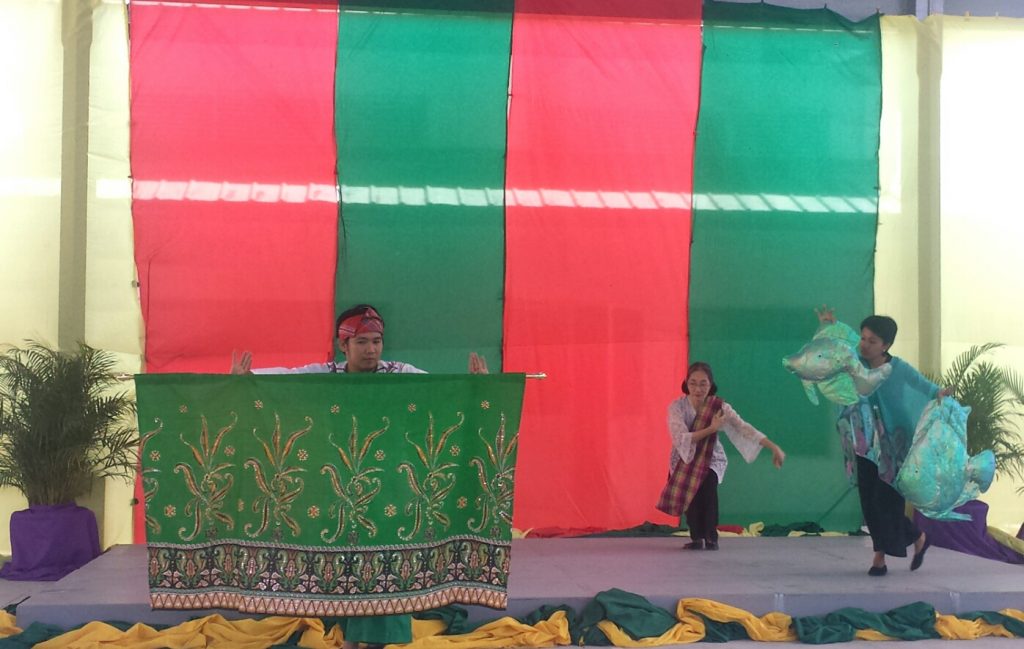 ---
Roosevelt College, Rodriguez, Rizal scheduled on 27 Feb 2017
[DUE TO THE NATIONWIDE TRANSPORT STRIKE ON MONDAY, 27 FEBRUARY 2017,  ROOSEVELT COLLEGE HAD TO POSTPONE THE PERFORMANCE. ]
This production titled WATER SYMPHONY was sponsored by the National Commission for Culture and the Arts (NCCA) in partnership with the AlunAlun Dance Circle. The rescheduled performance on 6 Mar 2017 was very successful, attended by roughly 1000 students from Roosevelt College, Rodriguez, Rizal Province. The school also invited public school students from the municipality. Since all the chairs were occupied, many had to stand or sit on the floor.
It coincided with the inauguration of the new covered court of the school, with a capacity of 1200. The school administration headed by Mrs. Citas Alcantara was very excited that a pangalay performance to commemorate National Arts Month was the first activity in the covered court.
Significance of Water
Water is the precious gift of our planet to us, without which no life can exist. Nothing is as fresh, pure, and life-giving as water.  Pangalay is an indigenous dance with an intimate relationship to water. Among coastal settlers and houseboat communities of the Sulu Archipelago in Southern Philippines, pangalay flourished as a lively expression of their close connection with nature. As this connection is gradually being lost, so is pangalay in danger of vanishing altogether.
Water Symphony is a celebration of life through dance. Pangalay reminds us that we come from a water culture. With each step we want to reconnect with the power and mystery of water. We want to allow water to speak through our movements.  When we listen to water revealing its secrets, we learn more about who we are.
What is Pangalay?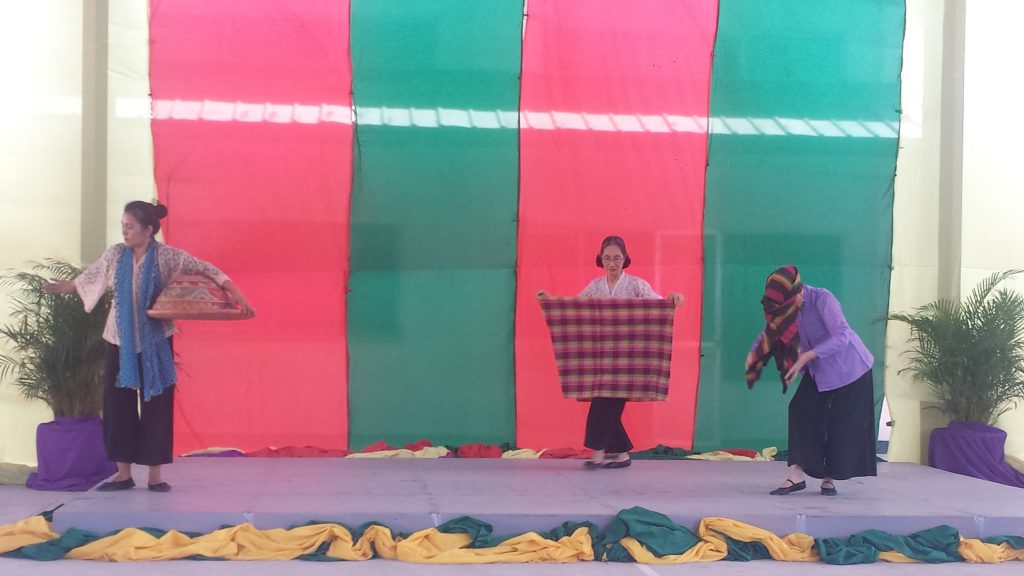 This is an annotated demonstration of the refined aesthetics of pangalay gestures and postures, accompanied by costumes of everyday life among the Tau Sug, Badjaw, Sama and Jama Mapun groups of the Sulu Archipelago. In the photo from left: Lyndie Literal, Ligaya Amilbangsa (director/choreographer), Nannette Matilac.
Mutya ng Pasig (Muse of the Pasig River)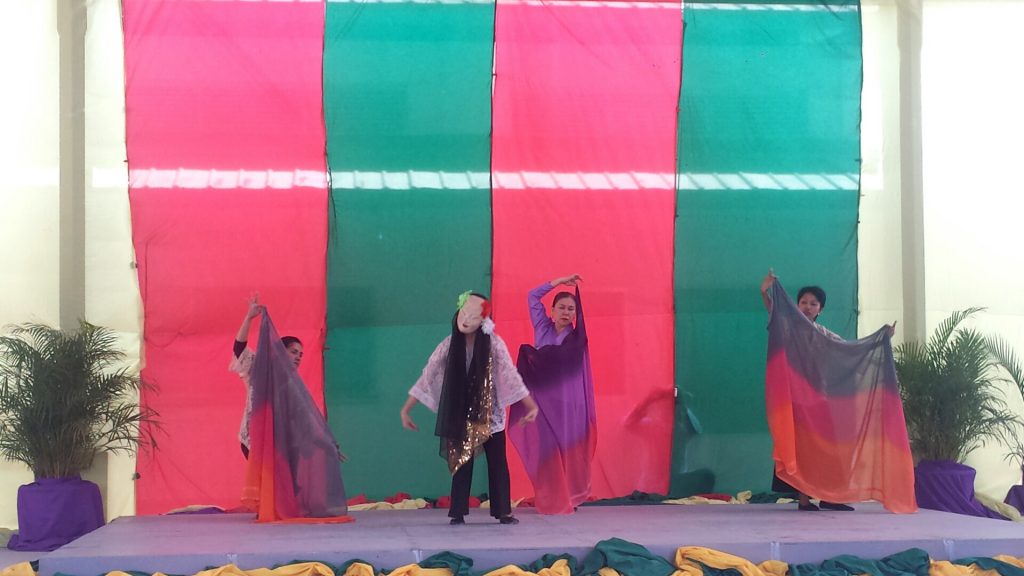 The dance is about a mysterious woman living on the banks of the Pasig River. She is the muse of the Pasig River who laments the imminent death of the river due to pollution and criminal neglect. With music by  Nicanor Abelardo and rendition by Sylvia la Torre and dancers (from left) Lyndie Literal, Ligaya Amilbangsa, Nannette Matilac, Joy Ricote-Cruz.
Below the Waves
Since time immemorial, humans are drawn to the sea. The seascapes of the Philippines are formed and maintained by the interaction with human activities.  As a tribute to the seas and oceans that sustain human life in our world, we bring you Below the Waves, with percussion music by African water drummers.  Dancers from left: Joy Ricote-Cruz, Lyndie Literal, Mannex Siapno
Sa Ugoy ng Duyan (Cradle Song)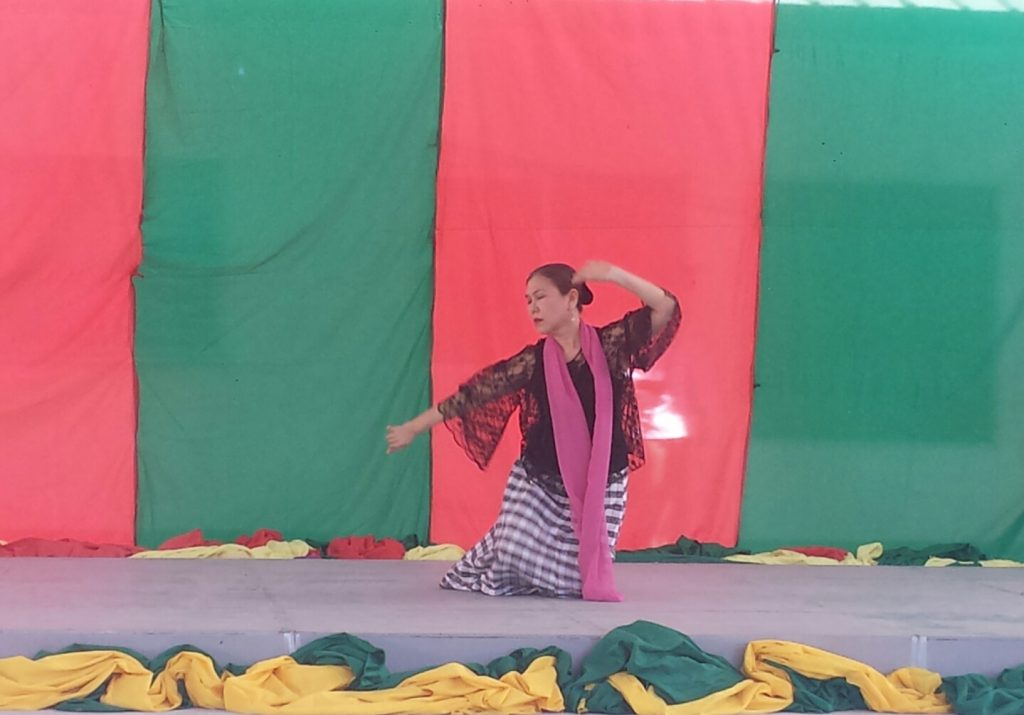 Water is a magical element sustaining an unborn child in his mother's womb and accompanying the baby's emergence into the world. Pangalay's gentle and soothing movements are well-suited for this vignette of a mother's healing and nurturing nature, like water quenching our primal thirst for love.  Music by National Artist Lucio San Pedro; Lyrics by National Artist Levi Celerio; Rendition by Regine Velasquez. Solo dance by Nannette Matilac
Power of Water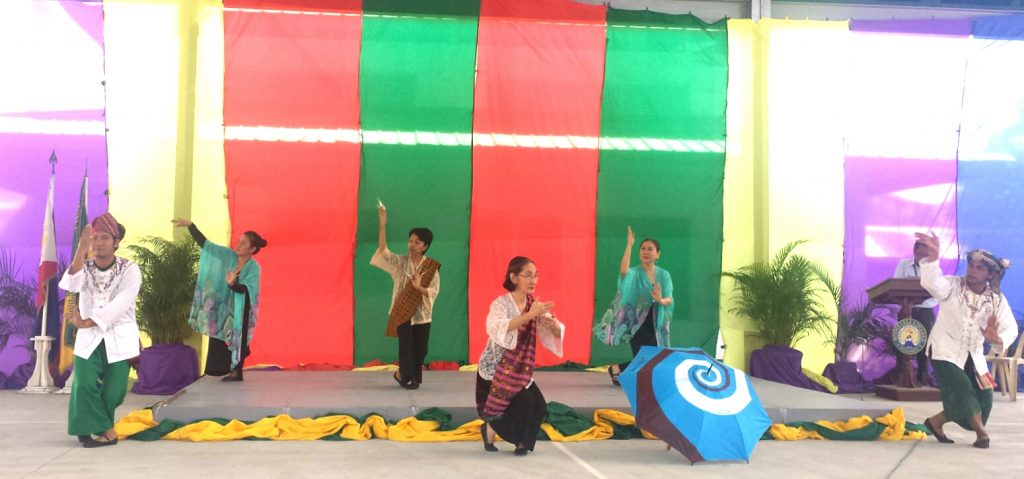 Water as Creator/Destroyer within the intermittent character of nature is depicted in choreography based on Tawti (dance of the fisherman), Langka (martial dance), and Linggisan (bird dance) which are all pangalay variants.  Music for this dance is titled Pamugun by National Artist Francisco Feliciano and sung by the Philippine Madrigal Singers.
Dancers fr left: Jimo Angeles, Lyn Literal, Joy Ricote-Cruz, Ligaya Amilbangsa, Nannette Matilac, Mannex Siapno.
Open Forum and Audience Participation